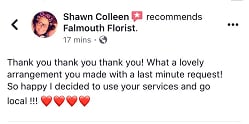 ______________________________________________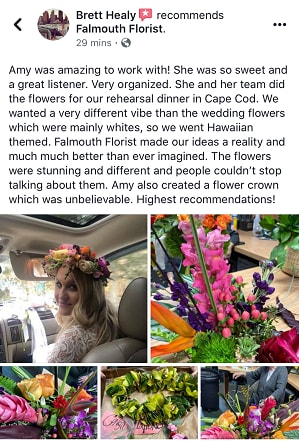 ______________________________________________
I received the most amazing arrangement at the nursing home here in Falmouth. It's called abundance of love, and it is STUNNING. I can't tell you how much this has brightened my day! Just lovely. It belongs in Magazine.
-Ruth
______________________________________________
I just returned from a wake in W. Falmouth, most of the flowers there were from Falmouth Florist & they were exquisite! People were commenting on how beautiful they were! Great to have such a talented florist in Falmouth!
-Marilyn
---
Thank you very much for your email and arrangement. My Mother was blown away with your presentation. I will continue to use and recommend your service.
Thank You!
David


---
Dear Ladies,
I just wanted to write and thank you for making such a gorgeous arrangement. My mother-in-law- LOVED it, and I can tell you they will look beautiful for quite some time,
Thanks again,
Donna Malbin

---
Donna and Lori
We just wanted to thank you both so much for the amazing job you did on our wedding flowers and bridal bouquets. You created exactly what we wanted...truly. I almost cried when you brought the flowers to my mom's and again when I walked into the reception. You went above and beyond and we really appreciate it. The lilies at my moms are my favorite too.

Love Allison and Nathan
---
Dear Ladies, Thank you for all the beautiful flowers you arranged for my mother's service (Anne Holmquist). The arrangements you created for us and others who ordered through you, were perfect, especially the yellow roses.
Many thanks,
Jane Rabesa

---
Donna and Lori, Roger and I would like to express our deepest gratitude to both of you! Our Wedding Day was so beautiful and memorable. You both did an Awesome job with the floral arrangements! God bless you both. You sisters are great! Thank you!!

Love Ann Roderick-Dumaine
---
If you are planning a wedding or simply want to order flowers in the Falmouth area, Falmouth Florist provides quality flowers and exceptional service. For my daughter's wedding, Lori matched the ribbon on the bridesmaids' bouquets perfectly to their dresses and the flowers on the reception tables to the chair covers; she couldn't have done a better job. The table vases, the girl's bouquets, the wrist corsages, the boutonnieres were beautiful. Lori provided excellent advice during the planning as well. They delivered flowers to the bride and attendants early for pictures and included plastic containers with water to keep the flowers from wilting until the wedding. Then, they delivered the rest of the flowers to the reception at a later time so they would be fresh. The people at Falmouth Florist take great pride in their craft.
---
Just wanted to let you know how very pleased my daughter and I was with the gorgeous bouquet of flowers I ordered.

"Falmouth Florist Rocks"

Thank you so much,
Sharon(and Wendy too!)
---
Dear Lori and Donna,
Thank you very much for doing the flowers for our June 26th wedding at Highfield Hall. You knew and understood exactly what we were looking for and it was truly a pleasure to do business with you. The arrangements themselves were absolutely flawless-thank you! Let me know if we can be of any help in the future, as we would be happy to serve as a reference.

Best,
Jessica and Bill Beaver

---

I bought flowers in May for my granddaughter's birthday. These women did such a wonderful job on the arrangement! So friendly and going well beyond normal customer service. I highly recommend Falmouth Florist to anyone who wants a special treat for yourself or someone special! Thank you so much for all your help! .

Best,
Lin S.

---

Falmouth Florist does a wonderful job. Under the ownership of Amy Bassett Way, the arrangements have a creative design catered to your individual needs. I have utilized Falmouth Florist several times in the past year; for my mothers memorial service; an anniversary party; a few birthdays; get well wishes and congratulatory wishes. The service I received from Amy and her staff was exceptional. It is so refreshing to see this business thriving and growing in our community under Amy's direction. Great job Falmouth Florist, I highly recommend you for anything related to Fresh Flowers & creative designs! 💐 🌸 🌺 Keep up the great work! .

Best,
Laura Schroth

---

Amy and her staff are extremely talented. The customer service is outstanding . They recently put together a beautiful bridal bouquet for a beach wedding. I brought in a picture and Amy matched it exactly. I go there often for my floral needs and have never been disappointed. I have shopped florist in both Falmouth and Mashpee. Falmouth Florist is by far the best .

Best,
Amy Delgado

---

Above and beyond customer service. Very friendly staff who made my shopping and delivery experience through them so easy and exceeded my expectations. Highly, highly recommend.

Best,
Stephanie Bilderback

---

I ordered flowers from Falmouth Florists at 1145 they were delivered at 1345 to my home in Falmouth. The flowers far exceeded my expectations, I even got a call that they were delivered. They earned a customer for life. Far better tasha ANY 1-800 blah blah...

Best,
Michael Lunney

---

We order an arrangement for an out of State funeral, and Amy was so knowledgeable about any thing that we asked her, and her suggestion were great, now I have to order flower for Falmouth, I will never go to any florist, only regret that she not in Boston.

Best,
Evelyn Toffoloni

---

Delivered flowers that were very CAPE COD in January to a friend who was delighted to see blue hydrangeas in January. Very helpful over the phone - especially since they needed to confirm delivery details with the recipient.

Best,
Winifred Dick

---

Wonderful staff , even for the small selection I made.

Best,
Joseph Tedone

---

They were so sweet to put grandson and made a custom arrangement on the spot!

Best,
Scott and Kathleen Gizzi

---

Always friendly and very efficient.

Best,
Bob Adams

---

Ordering was easy. Flowers delivered that day. Absolutely what I wanted and made the recipient very happy. Highly recommend.

Best,
Carol davis

---

My wife and I moved to the cape this past year, I've had 3 occasions thus far I've used Falmouth florist for, they've been punctual, the flowers have been fresh and staggered so they last and bloom for a while (one time in excess of 2 weeks) no complaints.

Best,
Nicholas Bennett